تاریخ:شنبه 22 شهریور 1393-02:11 ق.ظ
این کتاب دو جنبه دارد، جنبۀ تاریخی و جنبۀ اقتصادی ! این کتاب به موضوع اقتصاد امریکا و تاریخ اقتصادی آمریکا و آنچه بر آن ها از نظر اقتصادی گذشته است، می پردازد.
طبیعتاً کتاب به زبان انگلیسی است.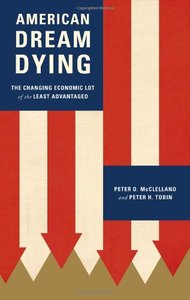 "The American Dream" means many things to many people, but at its core are three economic goals: a rising standard of living, financial security, and upward mobility. During the last 30 years, the economy of the United States has been radically transformed.

In the same time period, the possibilities for realizing the American Dream have also been radically transformed, and for the worse, particularly for those at the bottom of the income distribution.This book is based upon two premises. The first is that the pervasiveness of the withering of the American Dream across this country is a story with which few Americans are familiar. They are familiar with recent difficulties of the middle class, but know little about how the Dream has beendisappearing over the last three decades for those lower down the income scale.The second premise is that this latter story can only be told using aggregate data, not anecdotes. The text is short, free of jargon, and can easily be covered in a few hours. For many readers, however, the careful scrutiny of a succession of graphs will be an unfamiliar and demanding task. The key word in the previous sentence is "careful." Only with such scrutiny can the magnitude of the transformation underway be fully grasped. With that grasp will come, at a minimum, a sense of profound unease if not outright alarm